George Singleton

posted Nov 27, 2007
George Singleton has long been known for his enormously enjoyable stories about oddballs who live in out-of-the-way places. But he's no mere humor writer: his characters are complex and sympathetic, and his work deals, more or less seriously, with issues ranging from love to alcoholism to the meaning of life. And with 2005's Novel, and his latest, Work Shirts for Madmen, he's shown himself to be as adept a novelist as he is a short-story writer. So we're pleased to see that Work Shirts is attracting plenty of positive attention—and we're pleased too that he recently took some time to talk with our own Julee Newberger, to talk about writing, teaching, and the quandary of llamas that look like donkeys.
You've said your characters are "just regular people trying to get by," but in Work Shirts for Madmen, those regular people include a Native American ornithologist-economist who hangs out in tree houses, and a trio of recovering alcoholics who've had metal rods implanted in their arms so they can't lift a drink. How do these characters meet your definition of "regular people?"
I admit that my notion of "regular people" might be a little skewed. What I'm talking about is this: They're trying to do what's right. They're grappling with moral issues, or with what's-the-greatest-good-for-the-greatest-number-of-people notions. In Work Shirts for Madmen, the character Arthur Poole seems intent on a number of money-making schemes. He tells people to throw silver dollars on fire ant mounds so that the ants will supposedly die, but he really only goes back to the houses and steals the silver dollars. Later he devises some kind of plan to take anteaters around to fire ant mounds, for a price. Not so moral, we might think, but in the end we find out that he's a caretaker for an adult sister with horrendous birth defects and mental retardation.
I hope that the reader will understand that it takes quite a willing suspension of disbelief, but in the end it's all about how it's better to be a good human being.
Work Shirts for Madmen is full of off-the-charts-oddball situations: your protagonist Harp Spillman crafts ice sculptures of Republican party leaders, which melt into the Grand Wizard of the KKK, Mussolini, and Lucifer, while his wife Raylou kidnaps snapping turtles from a bio-toxicologist. Do you ever stop yourself while you're writing, and wonder, Am I taking this stuff too far? How much is too much?
That's my proverbial envelope I'm trying to push. Editors, of course, are usually the ones who say, "Are you kidding me?" and send the work back. I don't have a lot of interest in writing about upper middle class/lower upper class people whose conflicts include bad vacations in Vail, a day when they sold a particular stock just before it skyrocketed, an unresponsive pet pony, overcooked lamb, and so on. When I ever write a story about a compassionate conservative who's really compassionate and conservative—that's when it's too much, I imagine. That's when the reader should say, "Oh come on, now, you expect me to believe that?"
You once stated, "I am my main characters, for better or worse." You're a South Carolina writer who's married to a ceramicist, and in your latest, you've written about a South Carolina sculptor who's married to a ceramicist. Is there a different between your voice and Harp Spillman's voice? Between your view of the world and his?
Although I've never been a sculptor, or known men who fused their elbows, or had a film-directing mother, or had a father who ran off with an Irish Traveler, et cetera, Harp Spillman is pretty much me. I don't fully understand or believe in the rehab process: I think it's become a cottage industry that won't work as long as insurance companies shove a heavy hand on the scales. I think "counselors" sometimes want people to fail in regards to drug or alcohol abuse. If everyone were sober and clean, what would a man with an MSW degree do for a living?
Whenever my characters are being mean-spirited and paranoid—that's me, for the most part.
Work Shirts for Madmen is a comic work, but in it, your characters grapple with a serious question: Does free will exist? Answering for yourself, rather than your characters, is there such a thing?
Man. Of course I should say, "Yes." Of course I should say, "I firmly believe that we make decisions, that we become who we are in a Sartre-like way," and so on. But being paranoid—and slightly obsessed at all times—sometimes I wonder if it ain't one big fat trick. I read recently a report that pointed out how we could all be living in some kind of computer game being played by beings from another solar system. There was some kind of odd percentage of how this could actually happen. That about makes sense to me. It explains why we Tilt so often. Wait—that's not a computer game. That's a pinball game. Hell, I can't even get into the 21st century, much less grasp Free Will.
Critics have described your characters as so complex and quirky that they defy stereotypes. As a writing teacher, how do you help your students craft characters that do the same?
My students are young. They're 11th and 12th graders at a fancy—yet public—school. I teach at a place like that bad TV show Fame. So my students come in and I make them read a short story a day for ninety days. Meanwhile I give them prompts and exercises that cause them to create characters that aren't suicidal, angst-ridden, Harry Potter-like, and so on. What's left over, I imagine, are curious oddballs with some definite goals. And they meet curious oddball antagonists who have set up some strong barriers in the protagonists' paths.
Your books are filled with people who work with their hands. Is there something about doing this sort of work that makes someone more interesting to you, and thus more fun, or easier, to write about?
I don't want to say that I fully believe in the "write what you know about" dictum—how would science fiction come about unless people rode spaceships?—but that's what I know about. My father made me learn how to paint houses back when I was about thirteen years old, and he rightly said that I'd never be without work if I could do such work. I drove a garbage truck one summer. I've roofed and gofered and framed houses, et cetera. Washed dishes in college and right after. Delivered newspapers in the middle of the night on a seventy mile route. Again, I care more about these types of characters' wishes than I do the stock broker, banker, lawyer—especially the lawyer, unless said lawyer works as a public defender. (As I write this I just noticed a guy on a moped riding by my house. He wore a helmet. Is he safety conscious? Is he embarrassed for people to see him? Does he want to live in case things perk up?)
Much of your work is set in small-town South Carolina, where you've lived for many years. You've been quoted as saying you'd like to live elsewhere, but do you worry that if you moved, your new home might not provide you with such rich material? What, and who, would you write about if you lived in, say, California or New York?
Did I really say that? I said I wanted to live elsewhere? Maybe I was drunk back then. Although I gripe and complain a bunch here, it's perfect for the writer. I have these writers living within 20 miles, all of us vastly different: Ron Rash, Ashley Warlick, Mindy Friddle, John Warner. There are others, too. Here's what's going on: we still have the old old South people hanging on, and then the transplants who're scared of the old old southerners, and some people in between. It causes conflict. I barely have to make anything up. One time I was in line at the little general store about four miles away, and the man in front of me looked outside at the gas pump. The driver hauled a horse trailer. The guy in front of me looked at the trailer and boomed out, "What the hell kind of donkeys is them?"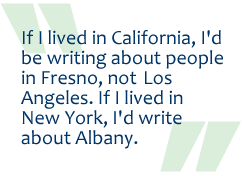 They were llamas.
If I lived in California, I'd be writing about people in Fresno, not Los Angeles. If I lived in New York, I'd write about Albany. I'd have to tell everyone to quit reading William Kennedy and Fred Exley, but I'd write about Albany. And my characters would be banging their heads about the idiotic behavior of politicians, the wrong-headed, the man obsessed with his son's third grade teacher, and so on.
After publishing your collection Half-Mammals of Dixie, you said you didn't want to write a novel, because "novels tend to ramble on slowly, kind of like a serpentine river on flat, flat land." Why did you change your mind—and write not just one, 2005's Novel, but a second, Work Shirts for Madmen?
The reason why I wrote a second novel was partly because a book critic wrote "George Singleton said he'd never write a novel and now he's written one. He's a liar! He said he wouldn't do it, and now he's done it. He's a liar!" Or something to that effect. So I wrote a second. Now I can say, "I will never write or publish a novel" and be honest. "A" and "two" are different concepts, both in the mathematical and analytic philosophy world.
The first novel got written because I made a gigantic mistake. Beneath the fire ant mound is a world. It's a world, but it's not a story. To make the fire ant mound a story, one must poke it with a stick. The story involves the ants repairing their world. You can poke it twice, I suppose, if you want a subplot.
I was in the middle of a short story I called "Novel"—(the guy on the moped just rode back in the other direction, still wearing his helmet, for anyone keeping track)—and it got to be 40 pages. I'd poked the mound a good half-dozen times. Then I took my stick and started poking any little glittering objects in the vicinity. I had too many plots, subplots, and characters. So I said to myself, "Well, damn it to all hell, here we go," and I wrote it like crazy.
I did the same thing, to a certain extent, with Work Shirts for Madmen. Let's just say that I was taking a lot of notes about someone forced to undergo rehab, and forced to go to something like seven meetings a week, et cetera. Boy, I took a lot of notes—way too many for a short story.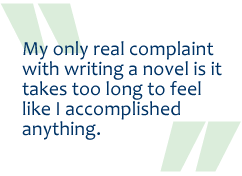 In tackling a novel, did you find you had to change your approach to writing? And now that you've written two, do you have the urge to write another?
I get up in the morning, usually, and write. I reread what I wrote the previous day. My only real complaint with writing a novel is it takes too long to feel like I accomplished anything. I'm not the most patient person. I can knock out a couple stories a month when everything's going well. Then I get them in the mail, wait some time, and they might get published in nine months—like having a baby without all the mess or paternity suits. With a novel it might take me a year to write and rewrite, then another year before it comes out. How long is an elephant's gestation period, two years? (I think the moped guy's casing my house, goddamn it. He rode by again.) So a novel is like an elephant baby and a short story is like a human baby.
Maybe I should write more novels, is the answer. I like elephant babies better. They don't grow up and ride mopeds out here in the country.
© 2007 failbetter LLC