Lou Mathews, our Tenth Anniversary Novella Contest winner
Published on October 9, 2010
Lou Mathews, whose novella The Irish Sextet* won our Tenth Anniversary Novella Contest, and is now live on our site, is a fourth-generation Angeleno. Married at 19, he worked his way through U.C. Santa Cruz as a gas station attendant and mechanic and continued to work as a mechanic until he was 39.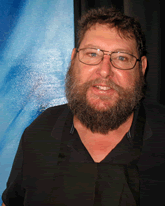 His first novel, L.A. Breakdown, about illegal street racing, was picked by the Los Angeles Times as a Best Book of 1999. He has received a National Endowment for the Arts Fellowship in Fiction, a California Arts Council Fiction Fellowship, a Pushcart Prize and a Katherine Anne Porter Prize. He has published recent work in New Madrid, Short Story, Harpur Palate, Tin House, and the last three issues of Black Clock. His short story, "The Moon Reaches Down for Me Like the Fist in a Siquieros Painting" is forthcoming in Black Clock #13—The Mix Tape, containing 24 stories from the first 12 issues of the magazine. His short stories have been anthologized in Valley Light, The Pushcart Prize Anthology, Love Stories for the Rest of Us, L.A. Shorts, Portales, and The Gotham Writers' Workshop Fiction Gallery. His non-fiction has been published in the Los Angeles Times, L.A. Reader, L.A. Weekly, Mother Jones, Tin House, and L.A. Style, where he was a contributing editor for eight years and a restaurant reviewer for forty-three pounds. He has taught fiction writing and literature in the UCLA Extension Writers' Program since 1989.
His produced short plays include Rancho Alisos, A Curse on Chavez Ravine, You Did Some Good Work Once, Jaws of Life, and a radio play, Captain Manners. His first full-length play, The Duke's Development, was a second prize winner in the National Repertory Theatre Foundation's National Playwriting Contest in 2000. San Antonio filmmaker Dora Peña's Crazy Life, based on his story of the same title, has been released by Vanguard Films in the short film anthology Contra Todo and is available from better DVD stores and on Netflix.
He is married to the poet Alison Turner, and his daughter, Jennifer Mathews, is an Associate Professor of Anthropology and Archaeolgy at Trinity University in San Antonio, Texas.
He has previously published two stories in Failbetter. "The Garlic Eater" was featured in Issue 19, and received a 2008 Pushcart Prize Special Mention. "Huevos" was published in Issue 29 and was named a notable story in Dzanc Books – Best of the Web anthology for 2009 . Both "Huevos" and "The Garlic Eater" are from his just-completed manuscript Shaky Town, a collection of stories linked by barrio or neighborhood.
Photo © Rachel Resnick
* - Wait! you're saying—isn't it the Irish Septet? And it was. But things change. So now it's the Irish Sextet—count the installments, once they're up.